105.3 The Bear is proud to be your flagship station for Virginia Tech Football and Basketball!
PINSTRIPE BOWL and BEAR TAILGATE SHOW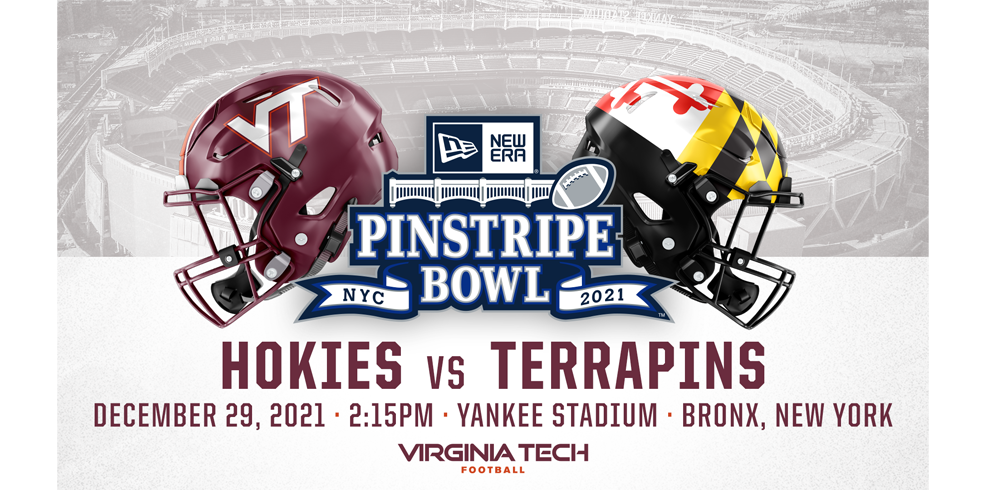 Wednesday, December 29th, don't miss a minute of the action as your Virginia Tech Hokies travel to New York for Pinstripe bowl! This time the Hokies will be taking on the Maryland Terrapins!  Coverage begins at 11am with a special Bowl Game edition of the Bear Tailgate Show Live from Macado's in Blacksburg. Kickoff will follow at 2:15pm.  
HOKIES BASKETBALL AND BEAR TIP OFF SHOW
Join Drez and JT from Macado's in Blacksburg ahead of select Hokie's men's basketball games for the Bear Tip-off show!
| | | |
| --- | --- | --- |
| 11/09/21 | 6:30 PM | Bear Tipoff Show at Macado's Blacksburg |
| 11/09/21 | 7:30 PM | Virginia Tech Men's Basketball vs Maine |
| 11/12/21 | 8:30 PM | Virginia Tech Men's Basketball vs Navy |
| 11/15/21 | 5:30 PM | Bear Tipoff Show at Macado's Blacksburg |
| 11/15/21 | 6:30 PM | Virginia Tech Men's Basketball vs Radford |
| 11/18/21 | 7:30 PM | Virginia Tech Men's Basketball vs St. Francis |
| 11/21/21 | 3:30 PM | Virginia Tech Men's Basketball vs Merrimack |
| 11/24/21 | 9:00 PM | Virginia Tech Men's Basketball vs Memphis |
| 11/26/21 | TBA | Virginia Tech Men's Basketball vs Xavier/Iowa State |
| 12/01/21 | 5:45 PM | Bear Tipoff Show at Macado's Blacksburg |
| 12/01/21 | 6:45 PM | Virginia Tech Men's Basketball vs Maryland |
| 12/04/21 | 12:30 PM | Bear Tipoff Show at Macado's Blacksburg |
| 12/04/21 | 1:30 PM | Virginia Tech Men's Basketball vs Wake Forest |
| 12/08/21 | 8:30 PM | Virginia Tech Men's Basketball vs Cornell |
| 12/12/21 | 1:30 PM | Virginia Tech Men's Basketball vs Dayton |
| 12/17/21 | 3:30 PM | Virginia Tech Men's Basketball vs St. Bonaventure |
| 12/22/21 | 7:30 PM | Bear Tipoff Show at Macado's Blacksburg |
| 12/22/21 | 8:30 PM | Virginia Tech Men's Basketball vs Duke |
| 12/29/21 | 6:30 PM | Virginia Tech Men's Basketball vs North Carolina |
| 01/01/22 | 2:30 PM | Bear Tipoff Show at Macado's Blacksburg |
| 01/01/22 | 3:30 PM | Virginia Tech Men's Basketball vs Pittsburgh |
| 01/04/22 | 5:30 PM | Bear Tipoff Show at Macado's Blacksburg |
| 01/04/22 | 6:30 PM | Virginia Tech Men's Basketball vs North Carolina State |
| 01/12/22 | 7:30 PM | Bear Tipoff Show at Macado's Blacksburg |
| 01/12/22 | 8:30 PM | Virginia Tech Men's Basketball vs Virginia |
| 01/15/22 | 4:30 PM | Bear Tipoff Show at Macado's Blacksburg |
| 01/15/22 | 5:30 PM | Virginia Tech Men's Basketball vs Notre Dame |
| 01/19/22 | 6:30 PM | Virginia Tech Men's Basketball vs North Carolina State |
| 01/22/22 | 10:30 AM | Bear Tipoff Show at Macado's Blacksburg |
| 01/22/22 | 11:30 AM | Virginia Tech Men's Basketball vs Boston College |
| 01/26/22 | 5:30 PM | Bear Tipoff Show at Macado's Blacksburg |
| 01/26/22 | 6:30 PM | Virginia Tech Men's Basketball vs Miami |
| 01/29/22 | 1:30 PM | Bear Tipoff Show at Macado's Blacksburg |
| 01/29/22 | 2:30 PM | Virginia Tech Men's Basketball vs Florida State |
| 02/02/22 | 7:30 PM | Bear Tipoff Show at Macado's Blacksburg |
| 02/02/22 | 8:30 PM | Virginia Tech Men's Basketball vs Georgia Tech |
| 02/05/22 | 6:30 PM | Virginia Tech Men's Basketball vs Pittsburgh |
| 02/12/22 | 4:30 PM | Bear Tipoff Show at Macado's Blacksburg |
| 02/12/22 | 5:30 PM | Virginia Tech Men's Basketball vs Syracuse |
| 02/14/22 | 5:30 PM | Bear Tipoff Show at Macado's Blacksburg |
| 02/14/22 | 6:30 PM | Virginia Tech Men's Basketball vs Virginia |
| 02/19/22 | 2:30 PM | Bear Tipoff Show at Macado's Blacksburg |
| 02/19/22 | 3:30 PM | Virginia Tech Men's Basketball vs North Carolina |
| 02/23/22 | 8:30 PM | Virginia Tech Men's Basketball vs Georgia Tech |
| 02/26/22 | 2:30 PM | Virginia Tech Men's Basketball vs Miami |
| 03/01/22 | 7:30 PM | Bear Tipoff Show at Macado's Blacksburg |
| 03/01/22 | 8:30 PM | Virginia Tech Men's Basketball vs Louisville |
| 03/05/22 | 12:30 PM | Bear Tipoff Show at Macado's Blacksburg |
| 03/05/22 | 1:30 PM | Virginia Tech Men's Basketball vs Clemson |
| 03/08/22 | TBA | Bear Tipoff Show at Macado's Blacksburg |
| 03/08/22 | TBA | Men's Basketball ACC Championship |